10th of December
Ohh winter is hereeee! Yes I know, winter was already here. I know, it I know it.. but today it really hit me. Today ladies and gentlemen it was snowing in Utrecht. It wasn't the first time this year, but I think it was the first time that is actually caused serious traffic issues. When I saw it started snowing I decided to not use my bike, as I don't like biking in the snow. I took the bus from my house to the conservatory, which takes about 20 minutes, but when I had to return home there were no buses and taxis due to weather circumstances. To make a long story short: I walked all the way home and it almost took me one hour. It was great (I say it like I mean it, like Trump).. I was happy I made it, I took a quick shower, put comfy clothes and thick socks on and decided to make dinner.
After this long walk, I started to think about ways to make this season bearable. I noticed I get down quite easily if I don't watch myself and my thoughts. I guess some people have it more than others; having issues with shorter days, less light and coldness. But then I thought: come on Nino, it's not all that bad! There are some wonderful things about the snow & winter season and that's why I would like to share some of the things I like with you!
The beauty of nature
First of all: enjoy it! Nature is so incredibly beautiful. When I sat in one of the rooms at the conservatory I saw the little snowflakes coming down from the sky. It looked so magical that I felt like just standing in the middle of it to enjoy the moment. I used to be able to only enjoy warm weathers, but that has changed these past years, now I even feel like the rain has something romantic instead of being just annoying. And when the snow has fallen on the streets like a blanket, hmm, what a lovely sight.
The season to drink lots of warm drinks
If I imagine a warm cosy winter evening I imagine sitting in front of an open fireplace, drinking warm chocolate milk and chatting with the people I love (ok that open fireplace, I have no idea how to arrange that, but the rest is definitely possible). There is something about warm drinks and cold weather, I just think it's amazing. This might also be the season to try out different kinds of tea than you're used to drinking in other seasons. In some tea & coffee shops, they even have a special selection of herbs that create their own 'winter- or christmas tea'.
If it's cold outside, make it warm inside
I don't mean it in a literal way – not like firing up the heating –  but putting more stuff in your room that have a warm tone. I personally like little lights or candles, they come in handy, especially when it gets dark outside relatively early. Even though I never decorate my room during Christmas (because I'm never at my student flat during the winter holidays), I do love to do it at my family's place. I can even get so caught up that I do everything myself in a very slow and meditative mindset. If you don't like Christmas decoration, but still looking for something to brighten up your room, look for decoration in warm tones like gold, yellow, orange and red.
Time for new additions to your wardrobe
Even though I'm less fond of the temperature of this year, I do really like to wear winter clothing. I like things that are warm and cover most parts of your body so that it almost feels like having a warm blanket on. One of my favourite items for the winter is the turtleneck sweater, which I find not so handy while playing the violin, unfortunately. But it is very warm.. hmm. Also if you need a decent winter coat or winter boots, don't try to be economic on that. I think it is important to have winter items that aren't just good looking, but also warm. After this walk home my socks were completely wet, I don't know how I used these boots last year, but apparently, they are not water resistant anymore.
Winter season equals comfort food
One of the biggest highlights for me is New Year's Eve's dinner! I think most people go big already during Christmas, but the biggest day in my family is definitely New Year's Eve. Even when I think of it now, I start to get hungry. This year I will celebrate the new year in Georgia so a lot of traditional food will be made that day.
Even though it's not Christmas or New Year yet, we can still enjoy warm and cosy food in our daily life. When I think about winter, I think of potatoes, I think of things from the oven, delicious soups, sweet apple cakes and that sort of stuff. I recently got 'A feast of Lebanese-style home cooking' cookbook of Comptoir Libanais with full of delicious recipes. This year they opened their first restaurant outside of London, in Utrecht! Lucky me.
Christmas markets and ice skating in town
I don't know about you, but I love Christmas markets, especially the ones in Germany (which is luckily right next to the Netherlands). There is something so cosy and joyful about them, I could walk around there for hours. Even though I never go ice skating (one of my violin teachers ones broke her wrist because of it and I'm afraid to go ice skating ever since!), I do like to look at people that are good at it and enjoy themselves!
Hope you all have a great time in December! xxx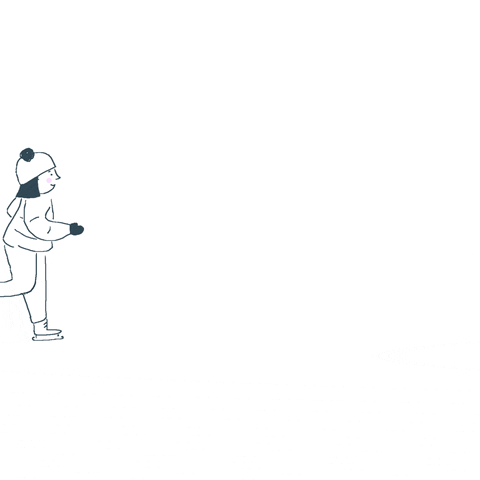 Author:
Nino Natroshvili
Violinist and student at the Utrecht Conservatory, the Netherlands.